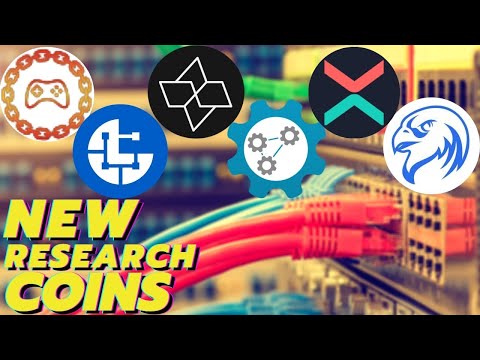 Dextools $DEXT | FalconSwap $FSW | ParsIQ $PRQ | Cartesi $CTSI | Chain Games $CHAIN (No token launched yet, not much info yet) brought to you by the Trustswap Team | PlotX built by the co-founder of Nexus Mutual NXM | Chiliz CHZ to do 3 FAN TOKEN OFFERINGS (FTOs) ON AUGUST 25TH. CA Independiente $CAI, Team Heretics $TH and Apollon Limassol $APL | Crypto.com CRO Syndicate Compound COMP 50% off and Bitcoin Syndicate
CRYPTOCURRENCY AND BITCOIN VISA DEBIT CARD – GET $50 FREE ON
► CRYPTO.COM https://platinum.crypto.com/r/ab *Code is AB
Get $10 Bitcoin bonus for trading $100 and more at Binance till September 19, 2020.
► https://www.binance.com/en/register?ref=UAMKZ47P *Code is UAMKZ47P
TRADE ON AAX, WORLD'S FIRST CRYPTO EXCHANGE POWERED BY LSEG TECHNOLOGY
► AAX EXCHANGE https://www.aax.com/invite?inviteCode=zpqm9Fn03yVG
CRYPTOCURRENCY MARKET PRICES AND DATA
► COINGECKO https://www.coingecko.com/en
TRADE BARCELONA FC, JUVENTUS AND UFC TOKENS ON CHILIZ EXCHANGE
► https://www.chiliz.net/register/FZAkA1 *Code is FZAkA1
🔺 NOTE If you use the above referral links, we receive a commission at no additional cost to you.
🔥 TOP CRYPTO NEWS – https://www.altcoinbuzz.io
🚀 FREE NEWSLETTER – http://eepurl.com/dnIEz1
🔶 TWITTER – https://twitter.com/Altcoinbuzzio
💡 FACEBOOK – https://www.facebook.com/altcoinbuzzio
🔷 TELEGRAM – https://t.me/joinchat/DLi8Ug8negQrbwYO-oqNRA
⏰ TIMESTAMPS
DexTools (DEXT) | 01:31
FalconSwap (FSW) | 04:09
ParsIQ (PRQ) | 05:55
Cartesi (CTSI) | 08:12
Chain Games (CHAIN) | 12:02
PlotX | 10:30
Chiliz (CHZ) 3 Fan Token Offerings FTOs on Aug 25 | 13:38
Crypto.com CRO Syndicate Compound (COMP) 50% off and Bitcoin Syndicate | 16:22
References:
https://www.dextools.io/
https://medium.com/@DEXTools/team-token-review-and-burn-46a3e6b845c2
https://falconswap.com/
FalconSwap layer 2 solution architecture aggregates multiple orders and saves you both trading fees and slippage.

No more waiting and gas fees wastage with FalconSwap.#Falconswap #eth #ethreum #gasfees #Uniswap #Layer2 #Blockchain #Scaling pic.twitter.com/SqsIiITdw9

— FalconSwap (@Falcon_Swap) August 21, 2020

https://medium.com/falconswap/introducing-falconswap-124b67b8ec6b
https://medium.com/falconswap/falconswap-token-the-powerhouse-for-defi-e103b20c275f
https://parsiq.net/
https://cartesi.io/
Unveiling the highly anticipated Cartesi Macroeconomy!

This macroeconomic article delves into the detailed specifics on Cartesi #PoS operations, including a new innovative staking system on the Cartesi side-chain in Q3 2021. https://t.co/bH0jzZxYsZ

— Cartesi (@cartesiproject) August 20, 2020

https://medium.com/cartesi/the-ctsi-macroeconomy-ea60a35ab2f3

https://alpha.plotx.io/market/hourly/BTC-ETH
https://medium.com/chiliz/3-fan-token-offerings-ftos-on-august-25th-everything-you-need-to-know-26611a035f6d
We are excited to announce that $CHZ is now available on @CoinbaseCustody @coinbase!👋

Huge milestone for Chiliz and great recognition of our journey over the last two years, to be able to offer a world-class service to both our users and our partners.https://t.co/RLNpl1JgQS

— Chiliz ($CHZ) (@Chiliz) August 21, 2020

https://www.altcoinbuzz.io/cryptocurrency-news/product-release/chiliz-launches-visa-debit-card/
💡2 days to go – $COMP at 50% off on The Syndicate! To join:

1️⃣Sign up 👉 https://t.co/crA90DkmXq
2⃣Stake 5,000 $CRO
3⃣Trade $5,000 USD on the Exchange
4⃣Subscribe #COMP at 6am UTC 25 Aug pic.twitter.com/cCy9PD4I7z

— Crypto.com (@cryptocom) August 23, 2020
Want to build your #BTC position at 5️⃣0️⃣% off?

🗓️ 8 Sept 2020 is your chance!

We've allocated USD$2,000,000 to The Syndicate – for one day only – to mark the day our Exchange exits Beta!

Sign up: https://t.co/1w2M6EZTsX

For a chance to win $500 of $BTC
RT, ❤️ & Follow us! pic.twitter.com/6Q1sBdAsdq

— Crypto.com (@cryptocom) August 13, 2020
Disclaimer:
The information discussed by Altcoin Buzz is not financial advice. This is for educational and informational purposes only. Any information or strategies are thoughts and opinions relevant to accepted levels of risk tolerance of the content creators/reviewers and their risk tolerance may be different than yours. Altcoin Buzz is not responsible for any losses that you may incur as a result of any investments directly or indirectly related to the information provided.
Please do your own due diligence and rating before making any investments and consult your financial advisor. The researched information presented we believe to be correct and accurate however there is no guarantee or warranty as to the accuracy, timeliness, completeness. Bitcoin and other cryptocurrencies are high-risk investments so please do your due diligence. Copyright Altcoin Buzz Pte Ltd. All rights reserved.