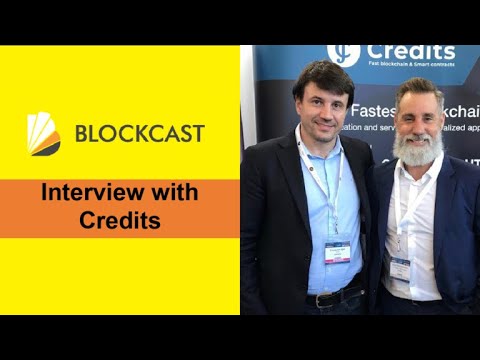 Arjan: Credits is first and foremost a platform to serve the payment industry and the emphasis will be on both educating potential customers and businesses about the unique capabilities of Credits, and combining first rate tech solutions and in-person relationships with customers.
Igor: If Credits did not exist, it would have to be invented. Luckily, we have done just that.
We believe that our adaptable and responsive development team will shape our services in discussions with customers and will take into account what is needed in the(ir) real world. The bank seamlessly integrates with our blockchain for frictionless transactions.
Melody: So a handy example of one such journey from a business point of view. What does the next six months hold for Credits do you think?
Arjan: Let's take a working example: We reconnected with Gaimin.io and their platform has developed significantly over the last year. They are only a few months away from an exciting launch, but were having challenges with the EOS blockchain. We already knew each other well, had discussed working together and even signed an MOU at the beginning of March this year. Gaimin had for quite some time shown an interest in the rapid scalability of the Credits blockchain along with how robust and dynamic we were.
Igor: We had a memorandum of understanding in place with Gaimin.io for a few months before the pandemic hit. Arjan and I held final discussions with Martin Speight, Gaimin's CEO and Calvin Adamus, Gaimin's CPO and our development teams have now been connected. What is so symbiotic for us both is that we can plan ahead. With Arjan knowing their team so well, the collaboration will mean that our infrastructure will be in place as the amount of the users of their platform increases, whether steadily or exponentially. The next six months for both companies will be very exciting coupled with a lot of hard work.
Arjan: A key component to Gaimin is their digital marketplace where the buying and selling of unique digital assets (non fungible token) is a key component. Our transaction volume capacity and speed, together with the seamless nature of those transactions will mean that the gamers never experience any lag whatsoever. They won't even know that there is a blockchain element to any of this, which is important. Martin once told me that he saw gamers as the key to mass crypto and blockchain adoption and what we have here is the perfect relationship to make this happen.
Melody: So do you see the two companies working very closely together in the years to come to develop a blockchain for the gaming market?
Arjan: I mentioned earlier, Credits are first and foremost a platform to serve the payment industry whereas Gaimin offers a platform to harvest a gamer's GPU power. The mutual respect that we have for each other's focus, work and progress over the last couple of years has without doubt created a bond that will be hugely beneficial, both ways round. The future for both companies is bright.
The ambition for Credits is to match the speed and transaction volume that Visa card presently has off the blockchain and make this feasible on the blockchain. Visa can currently process 65,000 transactions per second, while Mastercard can process 164 million transactions per hour or 45,000 per second. Independent tests have so far proven that Credits is capable of well in excess of these transactional volumes, so our immediate focus is a solid, stable and reliable 50,000 transactions per second.
In the coming months, we expect to have integrated a number of large companies onto the Credits blockchain and also have grown to a million users for our Neobank. We aim to be a long term major player in the Blockchain industry. For example, one of the developments that Gaimin is most excited about is the introduction of our debit card. This will mean that in the very near future any of Gaimin's users will be able to build up GMRX tokens and then use the card to buy anything from a Starbucks coffee to a keyboard, not just in-game assets. For Gaimin, that's a real game changer. And no apologies for that pun.
Igor: We have built our business and services by identifying what the market most needs, and then providing what is needed. It is really astonishing that Credits is pretty much unique in addressing the volume and speed of transactions demanded by smart contracts and so forth, on the blockchain. We have talked to our existing customers and others out there who might become customers. We expect the pathway that has been developed by talking to Gaimin, to be a similar one to other clients we bring on board.
After all, underneath it all, if people don't talk and listen to one another, through whatever medium – how else can we do effective business? So in that respect it will be "more of the same".