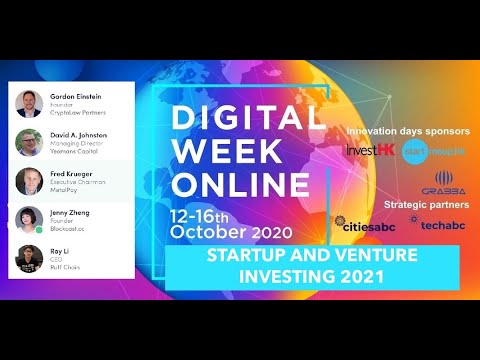 On Day 5 of the Digital Week Online, 5 entrepreneurs came online to share about their experience and views for startup and venture investing in 2021. The session moderated by Gordon Einstein, Founder, CryptoLaw Partners and led by panellists:
David A. Johnston
Managing Director
Yeomans Capital
Fred Krueger
Executive Chairman
MetalPay
Jenny Zheng
Founder
Blockcast.cc
Roy Li
CEO
Ruff Chain
In this session, they talked about:
1. Tell us about yourselves and projects you are involved in.
2. Are you all seeing only token type investments, or also traditional securities? Or, a blend of equity and tokens?
3. Is there still a place for Kickstarter type crowdfunding?
4. What ventures are getting investment backing?
5. What are investor looking for? Both informal investors, as well as angels, super-angels and VCs?
6. What are you seeing in terms of valuation?
7. What has the effect of Covid been on startup investing?
8. What has the effect of DeFi been on startup investing?
Digital Week Online is an online Summit held from 12-16th October 2020. This event unites tech entrepreneurs, authors, investors, innovators, leading corporates, and key governments. Blockcast.cc is an official media partner for Digital Week Online 2020.
For more information, please visit Digital Week Online.