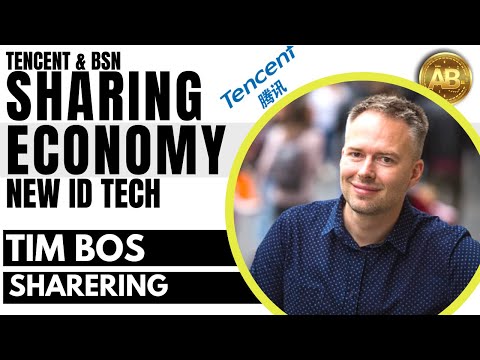 CEO of ShareRing, Tim Bos AMA with Layah Heilpern on Altcoin Buzz: Partnerships, technology, new products, ID solutions, milestones and integration with Tencent.
#ShareRing, #ShareToken, #SHR
ShareRing web site:
https://sharering.network/
Cryptocurrency And Bitcoin Visa Card – GET $25 FREE ON
► CRYPTO.COM https://platinum.crypto.com/r/ab *Code is AB
Trade On Binance!
► https://www.binance.com/en/register?ref=UAMKZ47P *Code is UAMKZ47P
Trade On AAX
► AAX EXCHANGE https://www.aax.com/invite?inviteCode=zpqm9Fn03yVG
CRYPTOCURRENCY MARKET PRICES AND DATA
► COINGECKO https://gcko.io/altcoin-buzz
TRADE BARCELONA FC, JUVENTUS AND UFC TOKENS ON CHILIZ EXCHANGE
► https://www.chiliz.net/register/FZAkA1 *Code is FZAkA1
🔺 NOTE If you use the above referral links, we receive a commission at no additional cost to you.
🔥 TOP CRYPTO NEWS – https://www.altcoinbuzz.io
🚀 FREE NEWSLETTER – http://eepurl.com/dnIEz1
🔶 TWITTER – https://twitter.com/Altcoinbuzzio
💡 FACEBOOK – https://www.facebook.com/altcoinbuzzio
🔷 TELEGRAM – https://t.me/joinchat/altcoinbuzzarmy
0:00 Intro
0:16 Tell us yourself and why you decided to start a blockchain company?
2:45 What products are ShareRing working on?
4:11 Is there a plan to make a ShareRing VISA or credit card?
5:17 What can we expect from ShareRing over the next 3 months? What are you most looking forward to?
6:35 Can you tell us about the Tencent partnership?
7:59 What sets ShareRing apart from other tokenized blockchain companies?
9:35 Are there any strong competitors to your products, or are you a pioneer?
10:19 ShareRing has announced a lot of partners this year, how many were there and how many more are left to reveal?
11:23 Tell us about the transactions, why they're important, and when can staking be expected?
12:36 What's the biggest factor for a company to use ShareRing?
15:10 When will ShareRing products like Shop and App be available?
Disclaimer:
The information discussed by Altcoin Buzz is not financial advice. This is for educational and informational purposes only. Any information or strategies are thoughts and opinions relevant to accepted levels of risk tolerance of the content creators/reviewers and their risk tolerance may be different than yours. Altcoin Buzz is not responsible for any losses that you may incur as a result of any investments directly or indirectly related to the information provided.
Please do your own due diligence and rating before making any investments and consult your financial advisor. The researched information presented we believe to be correct and accurate however there is no guarantee or warranty as to the accuracy, timeliness, completeness. Bitcoin and other cryptocurrencies are high-risk investments so please do your due diligence. Copyright Altcoin Buzz Pte Ltd. All rights reserved.