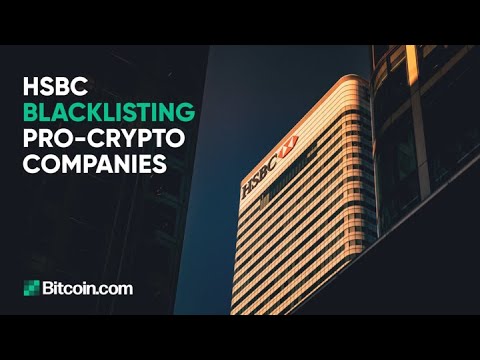 Watch the latest Bitcoin.com Weekly Update where we touch on the FBI's supposed use of BTC mixers, the latest in Craig Wright's civil lawsuit, the SEC commissioner's opinion on banning Bitcoin, and more.
00:20 HSBC changes crypto policy
02:27 Claims of FBI using Bitcoin mixers during BTC forfeiture processing
04:08 Civil Lawsuit against Craig Wright wants high court to rule against his Bitcoin white paper claims
05:00 SEC Commissioner: "banning Bitcoin is like shutting down internet"
Links:
Main Story:
HSBC Changes Crypto Policy, Now Bars Clients From Buying Stock of Companies That Hold Bitcoin
https://news.bitcoin.com/hsbc-crypto-policy-bars-clients-buying-stock-companies-hold-bitcoin/
Report Claims the FBI Uses Bitcoin Mixers During BTC Forfeiture Processing
https://news.bitcoin.com/report-claims-fbi-bitcoin-mixers-btc-forfeiture-processing/
Civil Lawsuit Against Craig Wright Wants High Court to Rule Against His Bitcoin White Paper Claims
https://news.bitcoin.com/civil-lawsuit-against-craig-wright-wants-high-court-to-rule-against-his-bitcoin-white-paper-claims/
SEC Commissioner: Banning Bitcoin Is Like Shutting Down Internet — Government Would Be 'Foolish' to Try
https://news.bitcoin.com/sec-commissioner-banning-bitcoin-shutting-down-internet-government-foolish-to-try/
►►►Remember to subscribe to our Youtube channel and hit the bell "🔔" icon to get notifications:
https://www.youtube.com/bitcoincomofficialchannel?sub_confirmation=1
—
► What is Bitcoin?
—
Watch our Bitcoin 101 Educational Video Series and explore the countless reasons why you should start using Bitcoin today:
https://bit.ly/2X0DtIy
—
► Who are we?
—
At Bitcoin.com we create tools that bring more economic freedom to the world, helping enhance your adoption and ease of use of cryptocurrency. We help you store your cryptocurrency securely with the fastest Bitcoin wallet on the market, and we provide you with the opportunity to send and receive Bitcoin Cash for fees reliably less than a penny per transaction. You're able to build your cryptocurrency portfolio through our services or trade with other cryptocurrencies on our Exchange. We are true believers in Satoshi's vision of an electronic peer to peer cash system.
►Visit our main website at:
https://bitcoin.com
►Download our Bitcoin wallet:
https://wallet.bitcoin.com
iOS: https://apple.co/2VlAHfC
Android: https://bit.ly/2VWDYkX
►Buy Bitcoin or Bitcoin Cash with a Credit Card:
https://buy.bitcoin.com
►Discover merchants accepting BCH near you:
https://map.bitcoin.com/
►If you're a merchant and want to accept BCH visit:
https://www.bitcoin.com/bitcoin-cash-register
►Download the Bitcoin Cash Register App here:
iOs: https://apple.co/39GvALh
Android: https://bit.ly/2VMHsGk
►Get instant privacy with CashFusion:
https://www.bitcoin.com/cashfusion-fund/
►Visit our Developer site and help change the world:
https://developer.bitcoin.com/
►Get the latest crypto-related news:
https://news.bitcoin.com/
►Shop our merch at the Bitcoin.com Store:
https://store.bitcoin.com
►Find and join our mining pool here:
https://pool.bitcoin.com/
► Listen to our Podcast on these platforms:
https://the.roger.ver.show.buzzsprout.com/
https://podcast.bitcoin.com/
Follow our other social media channels:
►Twitter: https://twitter.com/Bitcoincom
►Instagram: https://www.instagram.com/bitcoin.com_official/
►Facebook: https://www.facebook.com/buy.bitcoin.news/
►LBRY.tv: https://lbry.tv/@Bitcoincom:c
►Uptrennd: https://www.uptrennd.com/user/bitcoincom
►read.cash: https://read.cash/@Bitcoin.comOfficialYoutubeChannel