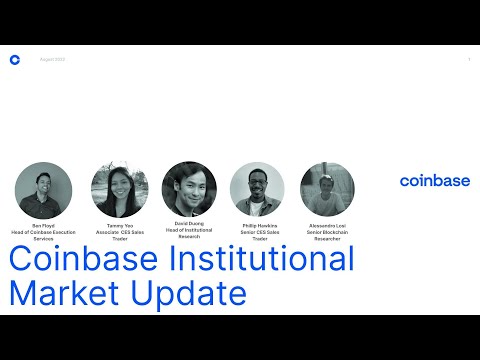 Chapters:
00:00 Intro
02:24 Market Update
10:05 Macro
17:42 Trading Flows
21:08 Defi and Web3
At Coinbase, our mission is to create an open financial system for the world.
:white_check_mark: Subscribe to our channel here: https://www.youtube.com/channel/UCofTOFX4QuhT8OY-3-fFRFw/?sub_confirmation=1
► To own a piece of the future visit Coinbase: http://ow.ly/rtfm50ufhzm
► Follow us on Twitter: https://twitter.com/coinbaseinsto
► Like us on Facebook: https://www.facebook.com/coinbase/
► Find us on Instagram: https://www.instagram.com/coinbase/
#coinbase #Cryptocurrency #Blockchain #CoinbaseExchange #CoinbaseApp #OpenFinancialSystem #CryptoForAll
__
This content is being provided to you for informational purposes only. Nothing discussed in this video is intended to be investment advice. This content, and any information contained therein, does not constitute a recommendation by Coinbase to buy, sell or hold any security, financial product or instrument referenced in the content.