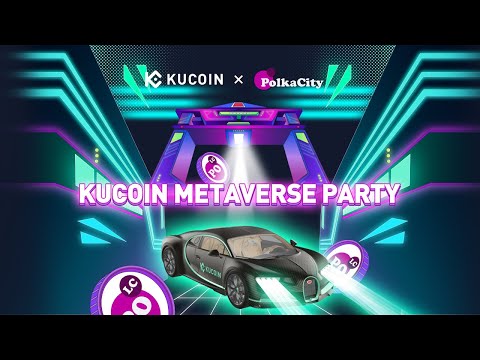 Party with KuCoin in PolkaCity Metaverse, win a share of 50 KuCoin Bugatti NFTs and 50,000 POLC!
Learn how to join the party and attend on time!
⏰ KuCoin Metaverse Party Time: 11:00:00 on July 20, 2022 (UTC)
Update your KuCoin App to the latest version or install the App: https://www.kucoin.com/download?utm_source=KC-Tutorial
Sign up on KuCoin to get up to 500USDT of welcome gift
https://www.kucoin.com/ucenter/signup?utm_source=KC-Tutorial
Follow on Twitter
Tweets by kucoincom
~ What is KuCoin ~
About KuCoin
Launched in September 2017, KuCoin is a global cryptocurrency exchange with its operational headquarters in Seychelles. As a user-oriented platform with a focus on inclusiveness and community action reach, it offers over 700 digital assets and currently provides spot trading, margin trading, P2P fiat trading, futures trading, staking, and lending to its 18 million users in 207 countries and regions.
In 2022, KuCoin raised over $150 million in investments through a pre-Series B round, bringing total investments to $170 million with Round A combined, at a total valuation of $10 billion. KuCoin is currently one of the top 5 crypto exchanges according to CoinMarketCap. Forbes also named KuCoin one of the Best Crypto Exchanges in 2021. In 2022, The Ascent named KuCoin the Best Crypto App for enthusiasts.