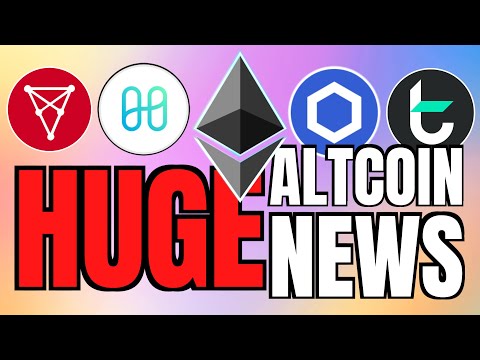 Crypto Market Overview | AC Milan Chiliz NFT | Ethereum ETH Berlin Update | Harmony ONE, Polkadot, TomoChain, PAID Network | Litentry, Chainlink, Polygon (MATIC), Polkamarkets, UTRUST | Macro Bitcoin Adoption News
0:00 Crypto Market Overview
2:00 AC Milan Chiliz NFT
3:28 Ethereum ETH Berlin Update
5:58 Harmony ONE, Polkadot, TomoChain, PAID Network
9:57 Litentry, Chainlink, Polygon (MATIC), Polkamarkets, UTRUST
12:59 Macro Bitcoin Adoption New
#bitcoin #ethereum #chainlink #altcoin #altcoins #altcoinbuzz #THETA​ #PAID​ ​​​​​​​​​​​​​​​​​​​​​​​ ​​​​​​#Investing​​​​​​​​​​ #Cryptocurrency​​​​​​​​​​​​​ #Invest​​​​​​​​​​ #Binance​​​​​​​​​​ ​​#news​​​​​​​​​​ #BTC​​​​​​​​​​ #success​​​​​​​​​​ #finance​​​​​​​​​​ #entrepreneur​​​​​​​​​​ #business​​​​​​​​​​ #market​​​​​​​​​​​​​​​​ #altcoinbuzz​​​​​​​​​ #eth​​​​​​​​ #nfts​​ #IoT​​ #crypto #chiliz #chz #nft #berlin #harmony #one #tomo #tomochain #litentry #lit #link #polygon #matic #utrust #wirex #jpmorgan #matic #airdrop #cryptopunk #acmilan
🔷 ALTCOIN TRADING SIGNALS – https://t.me/AltcoinBuzzChat
🔥 TOP CRYPTO NEWS – https://www.altcoinbuzz.io
🚀 FREE NEWSLETTER – http://eepurl.com/dnIEz1
🔶 TWITTER – https://twitter.com/altcoinbuzzio
💡 FACEBOOK – https://www.facebook.com/altcoinbuzzio
Cryptocurrency And Bitcoin Visa Card – GET $25 FREE ON
► CRYPTO.COM https://platinum.crypto.com/r/ab *Code is AB
Trade On Binance!
► https://www.binance.com/en/register?ref=UAMKZ47P *Code is UAMKZ47P
CRYPTOCURRENCY MARKET PRICES AND DATA
► COINGECKO https://gcko.io/altcoin-buzz
🔺 NOTE If you use the above referral links, we receive a commission at no additional cost to you.
References:
Booom. $ACM starting to tease about their NFTs on @chiliz & @socios. #bemorethanafan $CHZ https://t.co/Yu3Vl5l1i6

— Alexandre Dreyfus (@alex_dreyfus) March 10, 2021
More from $CHZ @Chiliz https://t.co/QQ0QM6a7x6

— Altcoin Buzz (@Altcoinbuzzio) March 10, 2021
How it started How it is going #NFT $TVK pic.twitter.com/wKiH6AdKYq

— Altcoin Buzz (@Altcoinbuzzio) March 10, 2021
Get ready! The Berlin network upgrade is coming soon.

See the post below to learn more about what's included and how to upgrade to the latest clients.https://t.co/oDKvMz33lt

— Ethereum (@ethereum) March 8, 2021

https://blog.ethereum.org/2021/03/08/ethereum-berlin-upgrade-announcement/
https://cointelegraph.com/news/deutsche-borse-s-platform-xetra-to-list-its-first-ether-etps?utm_source=Telegram&utm_medium=social
Harp bridge connecting @harmonyprotocol and @Polkadot ecosystems is live on testnet. Come help us test it.🧐

Follow the link for more information: https://t.co/5IHxlTLYlY

— Everstake (@everstake_pool) March 10, 2021

https://medium.com/everstake/harp-bridge-is-live-on-testnet-and-needs-you-a4451ce72893
#TomoChain is excited to enter the consumer market alongside UrBox, integrating #blockchain technology into the every-day life use cases! 🚀

Their newly launched solution, TomoBox, brings a diversified & convenient gift-redemption system for $TOMO users.https://t.co/V56LNMVtvw

— TomoChain (@TomoChainANN) March 9, 2021

https://medium.com/tomochain/title-tomochain-shakes-hand-with-urbox-purchase-thousands-of-mass-market-products-using-tomo-594afc4e1af0
Dear Community,

We thank you for your patience with the launch of the PAID v2 token & appreciate all the support we have been receiving.

It is with great pleasure we announce PAID v2 token contract address:

0x1614f18fc94f47967a3fbe5ffcd46d4e7da3d787https://t.co/tvuStLgmU8

— PAID NETWORK (@paid_network) March 10, 2021

https://paidnetwork.medium.com/paid-v2-airdrop-4f5e611a4fe2
Dear PAID community,

We have prepared an FAQ doc to address the major questions asked by the community regarding the attack on PAID Network on March 5, 2021, and to explain the PAID v2 token launch and airdrop process.

Read the Full FAQ🔽https://t.co/7dBsJmpRrq

— PAID NETWORK (@paid_network) March 8, 2021

https://paidnetwork.medium.com/paid-v2-token-faq-cc6b7ab60907
We are very happy to work with @cerenetwork to help with Blockchain Enterprise Customer Identity.https://t.co/s2jsqP9SY7

— Litentry (@litentry) March 10, 2021

https://litentry.medium.com/litentry-to-provide-aggregated-identity-service-to-cere-network-and-aggregate-its-enterprise-209c79350cf0
P2P fixed-rate lending dApp @YieldCredit is using #Chainlink Price Feeds on mainnet to secure its 30+ lending markets. Chainlink's ready-made oracles allowed Yield to expedite its product launch while still providing users the most robust oracle security. https://t.co/j9M4Z3FrWd

— Chainlink – Official Channel (@chainlink) March 10, 2021

https://yieldcredit.medium.com/yield-integrates-with-chainlink-9e42840b989
🔥 Thrilled to announce a collaboration with @Polkamarkets, one of the pioneers of DeFi-Powered Prediction Markets.

🔮 Polkamarkets, built for cross-chain information exchange & trading will utilize Polygon for scalability and adoption!https://t.co/AcCo923Bhl https://t.co/8WVx879oFZ pic.twitter.com/eR0S4Yi3lO

— Polygon (previously Matic) (@0xPolygon) March 9, 2021

https://polkamarkets.medium.com/polkamarkets-partners-with-polygon-for-scaling-solutions-704461b81c67
Good things are coming. We keep pushing towards the mass adoption of #crypto and we're not stopping anytime soon. Find out more at https://t.co/ueoCrBCGf2

— Utrust (@UTRUST) March 9, 2021

https://medium.com/utrust/utrust-goes-live-on-payrexx-b3a90fb3aca7
https://www.prnewswire.com/news-releases/wirex-launches-revolutionary-mastercard-debit-card-and-new-rewards-programme-301242346.html
https://www.gemini.com/blog/introducing-the-gemini-boat-race-2021
https://www.businesswire.com/news/home/20210310005273/en/Digital-Currency-Group-Announces-Plan-to-Purchase-Shares-of-Grayscale-Bitcoin-Trust-OTCQX-GBTC
https://cointelegraph.com/news/jpmorgan-launching-crypto-exposure-basket-featuring-microstrategy-and-square?utm_source=Telegram&utm_medium=social
https://www.sec.gov/Archives/edgar/data/0001665650/000121390021014247/s131027_424b2.htm
Disclaimer:
The information discussed by Altcoin Buzz is not financial advice. This is for educational and informational purposes only. Any information or strategies are thoughts and opinions relevant to accepted levels of risk tolerance of the content creators/reviewers and their risk tolerance may be different than yours. Altcoin Buzz is not responsible for any losses that you may incur as a result of any investments directly or indirectly related to the information provided.
Please do your own due diligence and rating before making any investments and consult your financial advisor. The information presented we believe to be correct and accurate however there is no guarantee or warranty as to the accuracy, timeliness, completeness. Bitcoin and other cryptocurrencies are high-risk investments so please do your due diligence. Copyright Altcoin Buzz Pte Ltd. All rights reserved.