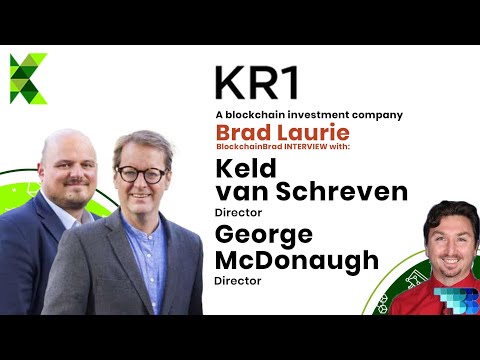 Did you know that KR1 is Europe's leading Digital Asset Investment Company supporting early stage blockchain and DeFi projects? Founded in 2016, KR1 has been a notable first investor in many key crypto-fuelled blockchain and DeFi projects that will power the decentralised platforms and protocols that form the emerging Web3 infrastructure. Today BCB speaks with Keld and George to learn more! This is an interview designed at providing transparency rarely offered in the Crypto VC and Capital Investment world.
●▬▬▬▬▬▬▬▬▬▬▬▬▬▬▬▬▬▬▬▬▬▬▬▬▬▬▬▬●
Timestamps:
00:07 Introduction: background etc.
00:51 KR1& what the team stands for.
06:22 How has being a VC changed?
13:22 What does KR1 offer?
17:25 Difference between KR1 and other Capital firms
18:57 Fake/Real in the Crypto Space. An open chat about influencers and shilling
23:28 Tech-first for KR1
27:13 Product-market fit
31:10 DeFi and Ethereum
34:56 Dealing with transaction costs
38:08 VC research
43:51 Taking the early risk
47:21 Fairer launches
51:28 Selecting successful projects
55:27 Preferential treatment
57:50 Avoiding quick shills and shortsighted people
59:40 Future plans
●▬▬▬▬▬▬▬▬▬▬▬▬▬▬▬▬▬▬▬▬▬▬▬▬▬▬▬▬●
Links:
Website: https://www.KR1.io
Twitter: https://twitter.com/kr1plc
Linkedin: https://www.linkedin.com/company/kr1
●▬▬▬▬▬▬▬▬▬▬▬▬▬▬▬▬▬▬▬▬▬▬▬▬▬▬▬▬●
►Join The BCB Tele https://t.me/BlockchainBradCommunity​​​
► Follow on Twitter: https://twitter.com/Brad_Laurie​​​
●▬▬▬▬▬▬▬▬▬▬▬▬▬▬▬▬▬▬▬▬▬▬▬▬▬▬▬▬●
PAYMENT/DONATION DISCLOSURE:
This was free content (I even pay editors to help). I have not received financial compensation for doing this video in any way.
●▬▬▬▬▬▬▬▬▬▬▬▬▬▬▬▬▬▬▬▬▬▬▬▬▬▬▬▬●
GENERAL DISCLAIMER:
The information provided is not to be considered as a recommendation to buy or invest in certain assets or currencies and is provided solely as an educational and information resource to help traders make their own decisions. Past performance is no guarantee of future success. It is important to note that no system or methodology has ever been developed that can guarantee profits or ensure freedom from losses. BlockchainBrad shall not be liable to the participant for any damages, claims, expenses or losses of any kind (whether direct or indirect) suffered by the participant arising from or in connection with the information obtained from this website or directly from the website owner.